"AMIART®" (functional softener)
(Click here for an Japanese description of "AMIART®".)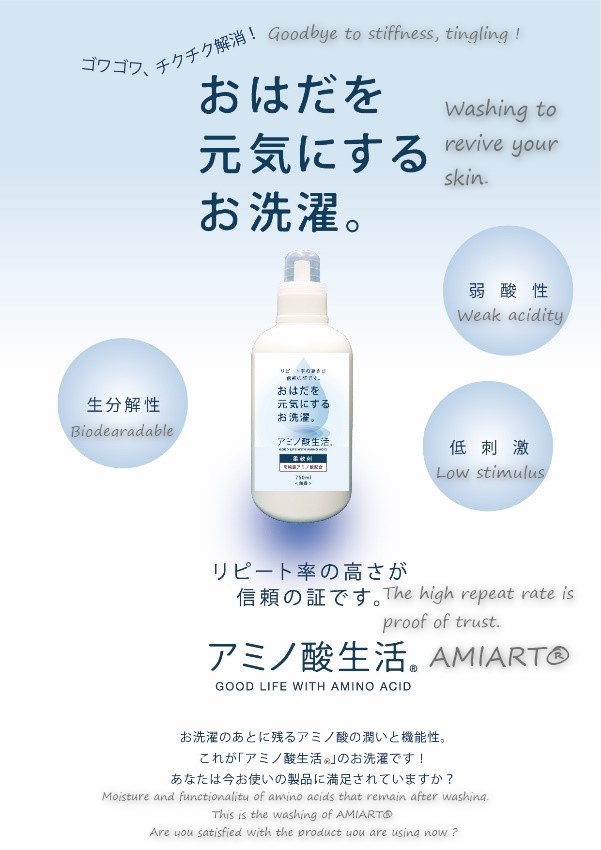 By adhering the moisture and function of amino acids, which are close to those of the skin, to clothing, "AMIART®", a multifunctional softener, protects the skin while providing antiviral, antibacterial, and deodorant properties.
The main ingredients are amino acids and natural fatty acids based on natural coconut oil,safe materials which are also used in cosmetic materials.
Through recommendation by dermatologists many people who are suffering from skin problems such as sensitive skin and dry skin have used it repeatedly.
Washing, not only keeps the texture of the clothes soft, but also protects the skin from various stimuli.
・Patch tests for people with skin diseases are also successful!
Click here
for test results
・Anti-coronavirus is reduced by 93%!
Click here
for test results
・The effect of suppressing the decrease in texture is huge!  

<"Characteristics">
1.It is made from a combination of plant-derived amino acids and natural fatty acids.
2.Fragrance-free, weakly acidic and less irritating.
3.It can be safely used even by people with sensitive / dry skin, babies, and people with skin diseases.
4.It suppresses the growth of bacteria on the material due to amino acids, and has antibacterial and deodorant effects.
5.It has an antistatic effect due to amino acids.
6.The wastewater after washing is biodegraded and does not burden the environment.
7. The finish is moist and soft to the touch.
8. It prevents deterioration of the thread structure and makes it less likely to cause a rugged feeling for a long period of time even after repeated washing.
<"Product overview">
・Product name: "AMIART®" functional softener
・Contents: 750 ml of the main body (approx. 25 times of washing * about 1 month)
・Price:1 bottle: 2,430 yen (tax included)
     3-piece set special discount (15% OFF): 6,210 yen (tax included)
     Bimonthly regular delivery (2 bottles once every 2 months, 25% OFF): 3,645 yen (tax included)
・Sales method / Stores: On sale at the shopping site
Amazon
Applications, ingredients, amount used, precautions for use, etc.
Product name
"AMIART®"
Applications
Clothing (cotton, wool, silk, chemical fibers)
Fragrance
Unscented
pH
Weakly acidic
Contents
750ml
Liquid type
Emulsion type (white to pale yellow)
Ingredients
N-coconut oil fatty acid acyl L-arginine-ethyl, DL-pyrrolidone carboxylate, Distearyldimonium Chloride, isopropyl-alcohol, ethylene-glycol
Estimated
amount of use
General type washing machine: Laundry 1.5kg: 1 cap (30ml)
Drum type: Washing machine display 0.4 cups: 1 cap (30 ml)
How to use
<"For fully automatic drum type">
Put this product in the automatic inlet of the soft-finish and wash it.
<In case of two-tanks type / washing tub>
When the rinse water is clean, add this product and spin it for 3 minutes or soak it and then dehydrate it.
Precautions
●Do not use for any other purpose.
●Keep out of reach of children.
●Be careful where you put it to prevent accidental ingestion by people with dementia.
●Make sure that the undiluted solution does not come into direct contact with clothing.
●While using, be careful not to get the liquid in your eyes.
●When using the automatic inlet for soft-finish, follow the instruction manual of the washing machine.
●Store away from high and low temperatures and direct sunlight.
First aid
●If it gets in your eyes, rinse immediately with running water for at least 15 minutes without rubbing, and be sure to see an eye doctor.
●If swallowed, rinse your mouth without vomiting and take measures such as drinking water. Talk to your doctor if any abnormalities remain.
●If the undiluted solution gets on your skin, wash it off with water.

Others:
The liquid may separate and solidify depending on the storage conditions, you are kindly requested to use it as soon as possible after purchase.
Packaging container
material
Bottle:PE、Cap:PP
Country of origin
Made in Japan
About posted
information
* Based on the information displayed on the product.
* The latest display contents are posted, but depending on the situation, the latest products may be shipped before the update.
<"Background of resale">
・Due to the circumstances of the sales company, sales have ended once in 2019.
・As there is a strong desire for resale even after the end of sales, we are offering a renewed package without changing the composition of ingredients. Those who have used the previous products can also use it with confidence.

<"About over-the-counter sales at medical institutions">
・"AMIART®" has been sold at dermatologists and major general stores in Kanagawa prefecture, and is repeated used by people with skin problems such as atopy.
・Please contact us if you would like to purchase it at the store.

<"About sales to companies">
・"AMIART®" has commercial (business) products and has been sold to the following manufacturers and companies for a long time.
Synthetic fiber maker, spinning, dyeing factory, apparel and inner wear / home living product manufacturing companies
・It is also possible to process the function of "AMIART®" into fibers. Please contact us from here.

<"About refilling">
・Currently working.